IRM - The Information Resource Manager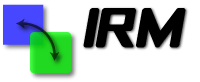 Logging your support calls since 1999.
I suggest taking a look at GLPI: http://www.glpi-project.org/, which is a long-time fork of IRM.
In the mean time, you can Get IRM on SourceForge. You can also browse Yann's GitWeb repository for IRM and the Bazaar repository from Martin Stevens.
Features
Detailed tracking of computers, searchable by all fields
Software tracking (installed copies, licensing)
Trouble ticket system ("tracking") with priorities, assign to users, tracking history, anonymous web submission, followups
Scaleable to thousands of records
SNMP browse support
Network mapping by network devices and ports/wires
Full e-mail notification
Report generation tools
About IRM
IRM, the Information Resource Manager, is a powerful web-based asset tracking and trouble ticket system built for IT departments and HelpDesks. It keeps detailed information about each computer, as well as providing a trouble ticket system, an FAQ system, and a Knowledgebase. All elements are interwoven into a seamless web application.
For more details, you can contact Yann..